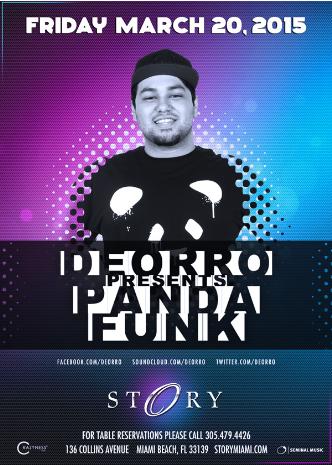 On Friday night, I made my way on over to quite possibly my favorite venue in all of Miami, Story, to see what all the buzz was about regarding the live performances of Deorro. I'd heard great things about his energy and nonstop enthusiasm blending well with his style of music. All I had heard was simply an understatement of what I was about to witness.
I entered in to see Deorro taking the stage alongside protege', and proud member of Deorro's label, Panda Funk: Dirty Audio. The LA based talent is one to be reckoned with, and was on full display Friday night playing as one alongside his mentor. For those not aware, Deorro is all about his "fam," don't get me wrong – he's fully committed to bettering himself as an artist and releasing new music. But his #1 priority is developing his group of protege artists. He feels a sense of responsibility towards helping them reach their goals, teaching them from his past experiences, and helping them navigate the path to stardom. Deorro's mature state of mind is certainly a refreshing thing to see.
Deorro took the stage with Dirty Audio, and the two never looked back. Both of them graced the decks together, bringing the crowd energy to new never-before-seen heights. The list of jaw-dropping tracks is nearly never ending, so I'll highlight my favorites from the evening. I was immediately taken aback with pure joy when the two dropped Otto Know's "Million Voices." The echos driving through the track never get old, it's just a unique track that always gets me going. Once they transitioned into a heavy drop, I knew they meant business. What I really enjoyed about this show is that Deorro refuses to play by the rules. He holds himself to no genre specification, gliding from Melbourne bounce, to big room bass, to hip-hop, even to some progressive house.
The two dialed things up by appealing to the masses with OT Genasis' "Coco," a track that while it probably insults everything intelligent and beautiful about music, you just can't help but sing-a-long. (Has anyone ever used the phrase sing-a-long and "Coco" in the same sentence?) Next up Deorro spun in his monster collab with two random characters named Steve Aoki and Diplo. "Freak" is just nothing short of a wild song in a live venue because of the heightened piercing drop and the repetitive vocal. 
Dirty Audio got in on the game as well, and helped work in a pretty awesome mashup that got the crowd going. I distinctively remember this as one of the best moments of the evening. He cut the music, and slowly worked in Armin van Buuren's "Ping Pong." For those not aware, the song is literally how it sounds – the hollow popping of a ping-pong ball going back and forth. Dirty Audio guided the crowd by swaying his hands from side to side.
Then the Panda Funk duo turned the clock back, and went #FlashbackFriday on the crowd. Working in tracks like Linkin Park's "Numb," and Queen's "We Will Rock You," both with dance music twists ofcourse. When I was talking about the diversity of sounds at the show, I wasn't kidding. Next up, Cedric Gervais' "Summertime Sadness" remix transitioning into Deorro's collab with R3HAB "Flashlight." For those shaking their head thinking… what's flashlight? Just think of that bouncy big room banger that pronounces in a loud voice "uno dos tres quatro!"
Deorro and Dirty Audio transitioned right back into some hip-hop vibes with Big Sean's "I Don't Fuck with You," then into Cash Cash's "Take Me Home." They continued with amazing tune after tune, but it was his ending that stuck with me. Then, they went from Martin Garrix's "Virus," and Florence & The Machine's "You've Got The Love." And if that wasn't enough glory, the two worked in some deeeeeep (the e's are there intentionally) underground tunes, giving a preview of what's to come potentially at Ultra's Resistance Stage this weekend. Suddently, it went from deep underground to subtle trap, and then Zhu's "Faded" vocal overtook the crowd. By this time, Story was floating in awe of the show these two had put on. To finish out the night, Dirty Audio and Deorro played Tiesto's brand new progressive single, "Secrets," with KSHMR. They threw it back to the classics one more time with a remix of Eurythmics "Sweet Dreams (Are Made of This)." Lastly, Deorro played my all time favorite of his, "Five Hours." He stripped the vocal, and just played it pure in it's instrumental form.
Overall, Deorro and Dirty Audio blew us away. For one, Dirty Audio is officially on my radar. A Panda Funk young talent I had never really gotten into, has clearly proven he can DJ. His productions show great promise as well. Deorro's shows have gained much attention, and I was thrilled to finally see him in his zone. I must say, I've seen countless DJ's at some great venues – but few looked like they had as much fun as Deorro that night. But don't take my word for it…
*I want to take a second to thank Jona Arajuo for making it possible for us to cover these shows for you guys.